We offer Hadrian bathroom partitions, including their industry leading powder coated partitions. Considered the best value in the industry, these partitions address key areas of durability, having high recycled content and fire and graffiti resistance at entry level price.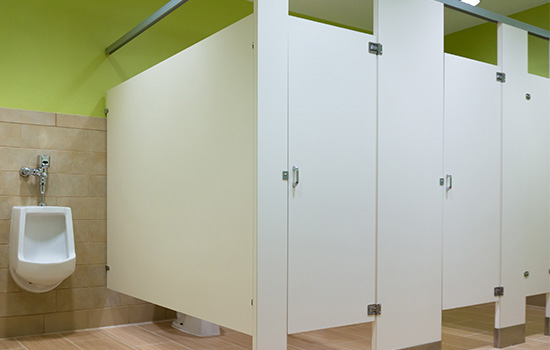 Powder Coated Partitions:
High recycled content – 50% recycled content makes these partitions an excellent choice for companies or families who are environmentally sensitive
Completely fireproof and give off no toxins if exposed to heat or flame
Proven ASTM D6578 graffiti resistance allows graffiti to be removed without damaging the finish or leaving a "ghost" image behind
Save up to 90% on installation due to lighter materials and pre-drilled pilasters requiring only one installer
Large selection of designer colors. Organic polymer coated finish is maintenance free and resistant to abrasions, chemicals, detergents, and acids
Hinges and latches are set within the door for easier maintenance
Door panels and pilasters will not warp, chip, or delaminate
A-level fire rating
Request A Free Quote
Fill out the form below and one of our experts will contact you to evaluate your needs and give you a personalized and competitive quote.