The last impression your bathrooms make is the quality of hand dryer that you have installed. If you prefer customers and employees exit the bathroom without still dabbing their hands on their pants or uniforms, we can help.
We offer quality hand dryers, including Excel's American Made dryers, which have provided cost effective hand and hair dryers for schools, hospitals, office buildings, factories, restaurants, hotels, stadiums, movie theaters and health clubs.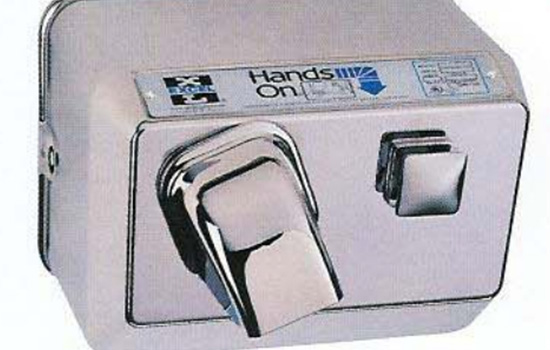 One of our top offers is Excel's "Hands ON" dryer, which offers a choice of a surface or recessed wall mounting, as well as:
Designed to provide twice the service-free life of other dryers
A 360 degree rotating air nozzle, providing easy hand and hair drying access
Can also be fixed with a simple on-site adjustment
The heating element produces an air temperature of 145 degrees and is protected by an automatically resetting circuit breaker.
Concealed timer operates the hand dryer for 30 seconds and the hair dryer for 180 seconds.
A 10 year unlimited warranty that includes damage from accidents, misuse, and vandalism.
We are certain that we have the right hand or hair dryer to meet your needs and the staff to help you make the perfect choice.
Request A Free Quote
Fill out the form below and one of our experts will contact you to evaluate your needs and give you a personalized and competitive quote.