With 40 million homes trusting their door handles and locks to Schlage, we are proud to announce that we offer the Schlage Primus key control system.
The Schlage Primus high-security key control system is precision built to extremely close tolerances and the highest standards of quality. Dual locking cylinders consist of two independent locking mechanisms, operated by a single specifically designed Primus key. Primus key control systems have 6-pin tumbler mechanisms supplemented by an independently controlled sidebar 5-pin mechanism that interfaces with the side bitting.
Side bitting is a unique "fingerprint" of the key, and this fingerprint is then used to geographically control the distribution of patented Primus keys.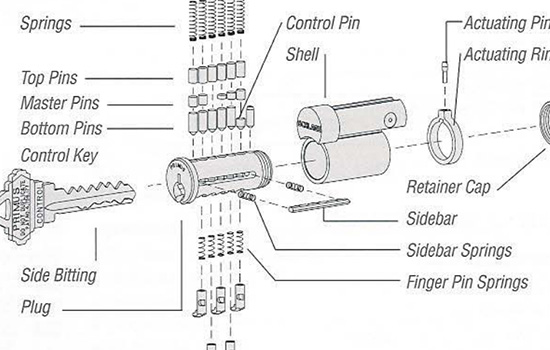 Cylinders are offered in two versions:
20-500 High-Security
Cylinders are UL 437, listed for drill and pick-resistance
20-700 Controlled Access
Same protection as all non-UL 437 cylinders
Applications: Fine homes, multi-family housing, retail, office or commercial space, institutions, industrial sites and anywhere else key control and physical security are top priorities.
Certifications: 20-500 High-Security cylinder: UL/cUL 437 Listed; ANSI A156.5, Grade 1. 20-700 Controlled Access cylinder: ANSI A156.5, 1992, Grade 1 operational
Request A Free Quote
Fill out the form below and one of our experts will contact you to evaluate your needs and give you a personalized and competitive quote.