Our Eliason doors are designed to handle the abuse of high traffic without showing wear and tear. Double action doors are a cost effective solution for efficient and safe two-way movement through an opening where visual, sound and environmental barriers are also required.
Eliason is recognized as a premier manufacturer of custom door solution, and we stand by their quality. Give us a call at 919-878-9000 or check our contact portal to learn more about how we can provide the perfect double action door for your organization or business.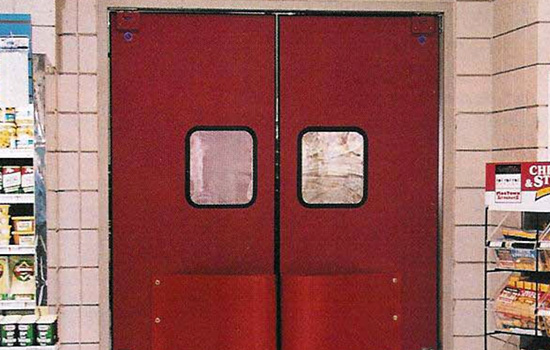 We can install double acting doors in:
Supermarkets
Restaurants
Hospitals
Shopping malls
Hospitals
Walk-in fridges, freezers and coolers
Institutional buildings
Taverns, bars and alehouses
Retail and pharmacy
Department stores
Request A Free Quote
Fill out the form below and one of our experts will contact you to evaluate your needs and give you a personalized and competitive quote.